Gay owned and run

  2 Bedrooms, Sleeps 5


 Price: From €70 EUR per room per night


 60 minutes from Brindisi


 Period apartment with terrace view in the Old Town


 Proximity to beach: 15 mins 
Gay BnB Salento
Pride of Salento BnB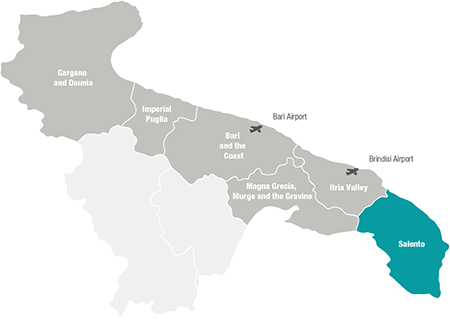 Via Pozzovivo 25
Nardo, Apulia, Italy
Stay with us at Pride of Salento Gay BnB in Charming Nardo. This Gay BnB in Salento is a 2 bedroom apartment with a sumptuous sun kissed balcony in the historical centre! Light, airy and spacious, this place comes with Air Conditioning, a massive sunbathed terrace and private bathroom. Nardo is strategically situated between Lecce and Gallipoli which allows you to see the best of Salento in a strategically positioned beautiful historic town. The bedrooms have queen sized beds. The apartment is nestled in a quiet street in Nardo where you can simply walk to all the action or stay home listening to the church bells whilst relaxing on the balcony with a spritz in hand! Pride of Salento Gay BnB is a mere 60 minutes drive from Brindisi airport. The beautiful Salento beaches are 15 minutes drive away. For those looking for rest and relaxation, massage services are offered on-site at €65 an hour. Try Swedish, Deep Tissue or Sports. Please enquire at info@italygaytravels.com for details and how to book.
Located right in the Old Town of Nardo', this house will not disappoint. Watch the sun set over the city  while relaxing on the terrace or have relaxing nights in its  comfortable living room. This place allows you to explore Salento in a very central location. There is free off-street parking.
Guests can access the living room with TV, fully equipped kitchen, and its terrace. Guests should make themselves feel at home 🙂
About Nardo
Nardo is a quaint little town strategically located between Lecce and Nardo. It is home to many expats who come here due to its cute baroque town centre and proximity to the untouched beaches nearby. The town itself offers an array of coffee shops, bars and restaurants. All is within walking distance.
Nardo is a town that is all doable by foot. Lecce is around 25 minutes drive by car and Gallipoli is 15 minutes drive away.
Highlights:
2 bedrooms, private bathroom
Air conditioning
Use of the Kitchen
Wi-Fi
Massage services on-site
Historical centre location
Sunny terrace
Guided excursions including city tours of Lecce and Gallipoli, Sailing and Catamaran experiences from Leuca, the south-easternmost tip of Italy