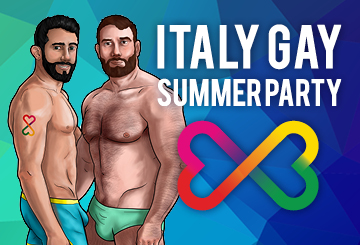 Gay Boat Party 2023
Italy Gay Boat Party, 2 Settembre 2023: Il Party Evento dell'Estate!
2 Settembre 2023: Italy Gay Travels presenta l' evento piu' sensazionale del Sud Italia! Unisciti a un selezionato gruppo di viaggiatori gay da tutto il mondo pronti a cuocere al sole della Puglia e a tuffarsi a suon di musica nelle acque blu di Gallipoli!
Italy Gay Boat Party 2023 e' un evento a base di musica, sole, divertimento innaffiato tanto Prosecco!
Italy Gay Boat Party si tiene in Salento, nella Ibiza Italiana, Gallipoli.
Gaylipoli Gay Boat Party
Meeting Point: Marina di Gallipoli

Sabato, 2 Settembre, 15.00 – 20.00
Costo: 40€. Per ulteriori informazioni contattare Sergio +393403010059
Il Gallipoli Gay Boat Party e' una festa esclusiva, con un massimo di 90 partecipanti da tutto il mondo, baciata dal sole e dal divertimento! Italy Gay Travels offre un'esperienza indimenticabile: dal porto di Gallipoli partiremo alla volta della Baia Verde a suon di musica. Ci fermeremo per delle soste nel mare piu' cristallino che ci sia: c'e' la possibilita' di saltare dalla barca e fare un tuffo nelle acque turchesi della baia di Gallipoli. Ad accogliere gli ospiti ci saranno Prosecco, vino rosato e soft drinks . La festa in barca dura l'intero pomeriggio. Ricorda solo di portare il costume da bagno (speedo ovviamente) e la crema solare 🙂
Questo il programma del Gaylipoli Gay Boat Party:
Alle 15.00 ci ritroviamo nel molo di Gallipoli (la posizione esatta te la mandiamo su whatsapp cosi' saprai dove trovarci).
Da li' saliremo a bordo della nostra fantastica imbarcazione (che ospita fino a 90 persone). Musica selezionata ci fara' scatenare per l'intero pomeriggio nell'incantevole baia di Gallipoli.
Sarai accolto da un bicchiere di Prosecco e da ottimi snack e stuzzichini locali.
Navigheremo a motore a suon di musica nella baia di Gallipoli, dove ci fermeremo per frequenti soste di fronte alla magnifica Baia Verde. Avrai la possibilita' di tuffarti nelle acque di Gallipoli!
L'ora del tramonto e' anche l'ora dell'aperitivo: cibo e drinks a suon di musica verranno serviti mentre il sole cala a picco sul mare. Uno spettacolo mozzafiato e indimenticabile!
Entro le ore 19 faremo ritorno al Porto con tanti nuovi ricordi e nuovi amici!
In barca c'e' anche un bar a disposizione degli ospiti, con ottimi drink a prezzi competitivi.
Gaylipoli Gay Boat Party 2023: Un'esperienza indimenticabile con tanti nuovi amici da tutto il mondo!
Please email us at your earliest convenience to notify if you would like to take part in the Summer Party at info@italygaytravels.com. Feel free to email us for any other information regarding the program or for any advice on getting around. We are also happy to advise you on places to stay as well as other activities that you can do including sightseeing and cooking classes. All events/dinners/parties are both in Italian and English.
The closest airport is Brindisi which has connections to many destinations. You can also fly to Bari which is a little further but has many connections.