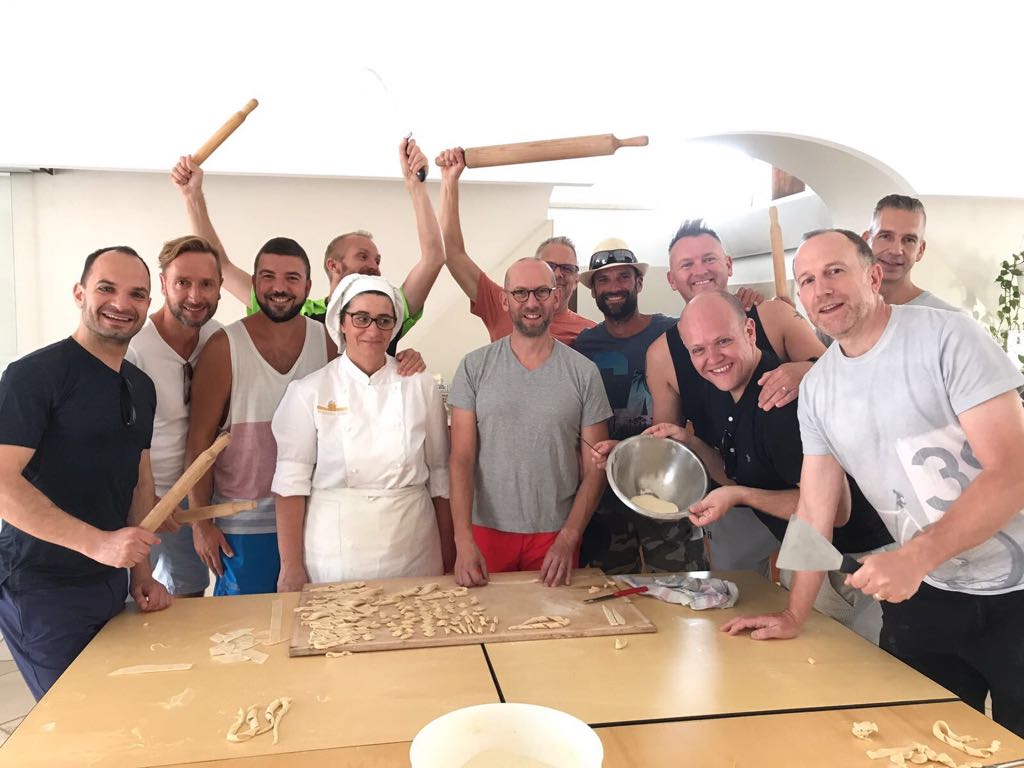 Gay Singles Week: Foodies Tour of Puglia
From €2290 or USD $2490
Deposit €500 or USD $590

3 – 9 September 2023
1 – 7 September 2024
Join the Gay Singles Week with Italy Gay Travels:
a Luxury Foodies Tour of Puglia. All Inclusive!
Our authentic and extravagant Gay Singles Week – Foodies Tour of Puglia is a once in a lifetime opportunity to explore the world-famous food in this amazing location along with like-minded singles. We will stay in a luxurious private villa with a pool not far from the sea. Our vacation combines the must-see sights of Puglia with a sophisticated exploration of the food and wine specific to the region. Think seasonal vegetables, local cheeses, seafood from the extensive coastline and amazing meat, this is not Italian food as you know it. Puglia cuisine is based on a Mediterranean diet but here the food is explored creatively and always on seasonal produce.
During our very own Gay Singles Week you will create inspired dishes with local chefs, while learning all the tricks and trades from centuries of passed-down traditions. You will also eat like kings on this tour as the gastronomy included will ensure you indulge. Not convinced? We also throw in trips to food producers, regional markets, wineries and olive groves.  We will also make sure to show you the key sights of Puglia and Salento: Lecce, Otranto, Gallipoli, Nardo', Santa Maria di Leuca are only a few of the places we will visit!
It sounds like a lot but there will be plenty opportunity to relax, unwind and shop. We will have a day on a boat excursion looking at Puglia from another angle. This Gay Singles Week – Foodies Tour is open to all levels of cooking: you will be learning about the amazing Pugliese kitchen so there is a new trick for everyone to learn! Our Gay Singles Week also offers an onsite massage therapist for those wishing to unwind and relax if the cooking gets to hot! Please email info@italygaytravels.com for more information and how to book these extra treats.
Day 1
Welcome to Puglia!
Make our way to the private villa we have reserved exclusively for our group. This is where the Gay Singles' Week adventure begins! Make yourself comfortable in your room and make sure to arrive hungry: a  delicious welcome aperitif dinner prepared by your hosts is the apt start to our tour.
Meals: Dinner (Delicious Aperitif dinner with Prosecco and wine included)
Day 2
Cooking class Pugliese style plus Gallipoli
After a fresh breakfast we have our first hands-on experience: a cooking lesson from a local chef. The lesson will focus on cooking typical Salento dishes and exploring the variety of local ingredients used. Cooking in Salento, and Puglia as a whole, is very seasonal and therefore recipes differ from one month to the next. Time to learn which vegetables grow in which month! We also have a 'waste not' attitude so don't be surprised to see parts of vegetables used that are generally thrown away. Recipes have been handed down from generation to generation and truly represent the Mediterranean diet. The session is hands on and time is taken to ensure that everyone is happy and confident by the end of the experience. Naturally we eat what we've made 😊.
After digesting our meal we visit one of the most beautiful towns of the region, Gallipoli, famous for its long sandy beaches and its Old Town. Get your speedos out and have a swim in the crystaline waters or explore the town in your own time. A delicious dinner will be served. A couple of digestives or a gelato finish off the evening in proper Italian Style.
Meals: Breakfast, Lunch and Dinner
Day 3
Boat trip around Castro and Otranto.
After a hearty breakfast, our group will head to one of the most beautiful towns along the Puglia coastline, Castro. This area is frequented by celebrities for its awe inspiring untouched landscapes and natural beauty. We make our way to the port of the town and board a private boat to discover the magical surroundings of the area and its amazing sea caves.
The boat ride will last a couple of hours: a dip in the water anyone?
After a light lunch, we then head to Otranto, the coastal port rich in history. This is the Easternmost part of Italy and is postcard famous for its location at the very edge of Puglia. East meets West architecture and white sandy beaches await you. Spend a couple of hours at your own pace exploring this gem.
In the afternoon we make our way back to the accommodation. Some free time before returning to the dinner table: your hosts will prepare a superb dinner, inspired by the best local recipes.
Meals: Breakfast, Lunch and Dinner
Day 4
From market stall to plate: Pasta Making class
After breakfast, we visit one of the local farmers' markets. Here we discover how the locals go about their daily lives. Along with your hosts and a local chef you will experience the markets in a truly authentic way. Once we have bought our ingredients we make our way back to the villa. Back in the kitchen we again get to learn the tricks of this amazing cuisine with a hands-on class with a local Mamma. We also learn how to make fresh pasta from scratch. The typical homemade pasta of the area is called 'Orecchiette' which gets its name based on the shape that resembles ears. Give it a go and before you know it you will be a master!
Later in the afternoon our Gay Singles Week group visit one of the local towns in the surroundings and enjoy a delicious dinner Puglia style.
Meals: Breakfast, Lunch and Dinner (wine included)
Day 5
Wine Tour in Nardo' and Lecce
Today we head to one of the best known wineries of the area, where we taste wines that are unique to the area of Salento. The traditional varieties that are grown include Primitivo and Negroamaro.
Afterwards we head to the seaside. Just 10km away from Nardo' are the typical villages of Santa Caterina and Santa Maria al Bagno, adjacent to the stunning Porto Selvaggio (Wild Port) Natural Reserve. We enjoy a light lunch by the sea, while spending some quality time by the beach.
Later in the afternoon we make our way to Lecce, the baroque capital city of Salento. After a guided walk in the centre of the so-called Florence of the south, everybody is left free to enjoy the city as they wish: a couple of hours for shopping, a spritz, a gelato. Feel free to do as you please, but make sure to join the group again for the evening meal: we will enjoy dinner in the historic center at a restaurant that showcases the local produce, including typical dishes such as 'ciceri e tria' (chickpea dish) and 'fave e cicoria' (cicory and fava beans).
We will finish the evening with a few drinks in some of the best gay friendly bars of Lecce.
Meals: Breakfast, Lunch and Dinner
Day 6
Olive Oil Experience and Farewell Dinner!
After a hearty breakfast, the Gay Salento Tour will head to a typical 'Frantoio' (farm producing organic extra virgin olive oil). Here we will learn the history of the ancient olive groves planted by the Romans and their uses from then until now. Marvel at the ancient trees that dominate this landscape. This is followed by a degustation of olive oils.
We will also explore Porto Cesareo, a port Town famous for fishing boats and fresh seafood. Meander through the little alleyways and see the locals going about their trades. This town will steal your heart!
What about the rest of the afternoon? Back at the villa, just relax and unwind by the pool and get ready for the Barbecue night. Those willing to party can make their way back to Gallipoli, the gay capital of Southern Italy where we can enjoy a drink or two at its local gay bar.
Meals: Breakfast, Light Lunch and Dinner
Day 7
Goodbye and see you next time!
It's time to say goodbye: this amazing Gay Singles Week is over! No tears please: see you next time!
One week with us is not enough? Then you have two options
Meals: Breakfast
Optional add-ons:
There are a range of massage treatments available at the Villa. Please email info@italygaytravels.com for more information.