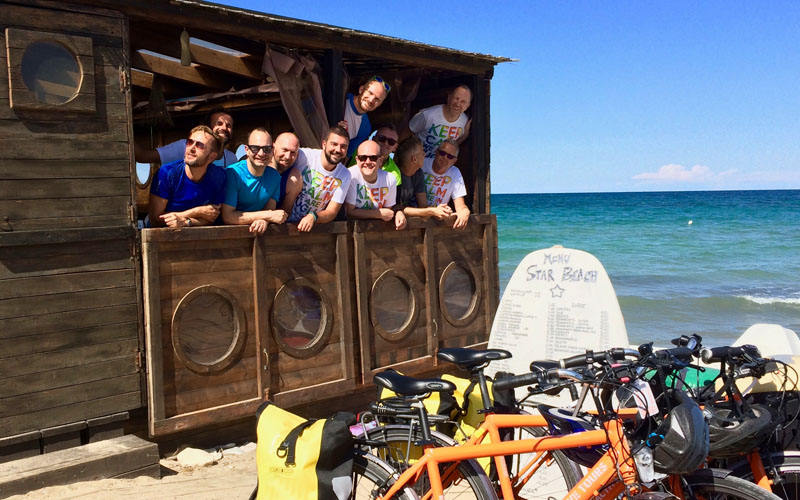 Puglia Gay Bike Tour
From €1490 or USD $1690
Deposit €500 or USD $640
5 – 12 October 2019 
23 – 30 May 2020 
3 – 10 October 2020
Other Dates available on request. Please inquiry.
Join Italy Gay Travels on an amazing Gay Bike Tour
Salento, set in the southernmost tip of Puglia, is fast becoming the gay destination of South Italy, this area is rich in culture, food, awe inspiring landscapes, white sandy beaches and some gay nightlife for good measure! Our tour is set at an easy level that will suit most cyclists. This gay bike tour is not only about cycling: see yourself swimming in the protected wild park of Porto Selvaggio and enjoy the best delicacies of food and wines of the region while learning some traditional recipes. This all gay bike tour allows you also to meet with like-minded gay men and to enjoy some free time to do what you like the most. You will have the opportunity to discover Lecce, a great Baroque capital of Southern Italy and also to explore the old baroque town of Nardo'. Plus you will pay a visit to Gallipoli, an old fishing port that is now the main gay hotspot of Puglia.
Day 1
Welcome
Welcome to Lecce! Known as the Florence of the South, Lecce is the Baroque capital of Salento, the southernmost part of Puglia. Lecce is the starting point of our Gay Bike Tour around this beautiful region. Here the sun reflects on white stones that adorn hundreds of churches and buildings enclosed in its historical city walls.
Once in Lecce, make your way to your accommodation in the very centre of Lecce and settle in: you will be given your Gay Bike Tour welcome pack. In the evening join your fellow bikers and your tour hosts, Sergio and Kendall, for an aperitif on top of Lecce. We will all get to meet each other and have a full briefing on the adventure that lies ahead.
Day 2
The trail of the Via Francigena (about 40 km)
After breakfast the whole group will meet: we will adjust our bikes and make sure everyone is ready for the first bike ride of the tour. We leave Lecce and head to our first stop: 'Lu Furnu' Giannocaro. This farm was the main agricultural center of Frigole village during the Second World War. Here you will have the opportunity to savour local breads, sweet, pastries, cakes and, above all, the tasty 'pittule' (dough balls). Pittule, local delicacies, should be eaten rigorously whilst still hot. Don't worry about the carbs, you will sure burn them off on the cycling you do! After this stop, we continue towards the coast, finally reaching the Adriatic sea. This coastline is rugged and rural and there will be plenty of opportunities to stop and take pictures as well as taking dips into the sea along the way!
The last stage today will be a visit to the historical medieval Abbey of Santa Maria di Cerrate. The complex of buildings was constructed in the 12th century and represents one of the finest examples of Romanesque architecture you will find in Puglia. In the afternoon, after the visit we will head back towards Lecce. We will follow the Via Francigena, the ancient road used by the pilgrims.
In Lecce you will have the evening free to do as you please. Visit the beautiful Baroque centre of the city or stop off at its chic bars such as 'Quanto Basta' for world class cocktails created by trendy Italian Barmen.
Free time in the evening to eat, drink and explore or join our
Optional typical dinner in a Restaurant in Lecce
Day 3
Cooking course in a farm (hot farmers not guaranteed!) and The Acaya lands (35 km)
After breakfast, we all take a short transfer to reach one of the many Salento farmsteads. Here you will put your cooking skills to the test and be 'chef' for a few hours. Luckily this is not Hell's Kitchen and the experience will be fun. You will learn how to prepare some typical Salento dishes: be prepared to get your hands dirty. The experience will end with a tasting of the dishes we have prepared.
Afterwards, we will get back on the saddle (weight allowing) and our Gay Bike Tour will follow a route into the natural reserve of the Cesine and the fortified village of Acaya. This is a route set in the natural beauty of Puglia. We will take a long cycle path surrounded by olive trees basked in the Puglian sun. Finally, we hit the coast and a beautiful beach where we take a dip in the sea adjacent to the reserve.
The route includes a stop in the small and enchanting village of Acaya. After visiting the castle which houses a Byzantine fresco still under study, we resume the road to Lecce. Free time in the evening to eat, drink and explore.
Day 4
Otranto and the East Coast (about 50 km)
After breakfast, we will take a private transfer to the Lago Azzurro (The Blue Lake), a surreal place where an emerald pond is adorned by fire red earth. After spending some time here, we begin to pedal backwards along the coastline, passing beautiful cliffs and rugged beaches. We reach Otranto, a coastal city which looks a little displaced as the architecture mixes East and West. Here we spend some time admiring the city before we take another coastal road to reach beautiful creeks of Salento known as the Bay of the Turks. Marvel at the cliffs of Sant'Andrea and its hidden caves of poetry.
After a visit to Otranto, we make our way back to Lecce, for our last evening there.
Typical dinner in Lecce with wine included. Try dishes including 'ciceri e tria' (chickpea dish) and 'Fave e verdura' (broad beans and vegetables).
Day 5
Lecce – Nardo' (about 50 km)
Today is the longest ride of our Gay Bike Tour: we leave Lecce and we cycle to Nardo', a beautiful Baroque town close to the sea, popular for its wine cellars and historic center.
Day 6
Free time in and around Nardo'
Today is a free day to enjoy the city of Nardo' and its surroundings. There are beautiful beaches just a few kilometers away that stretch for miles on your doorstep. If you are not a beach person then feel free to visit Gallipoli for a spot of sightseeing or shopping or just relax: ir's up to you!
Day 7
Nardo' – Porto Selvaggio – Santa Maria al Bagno – Gallipoli (40 km)
Today we are back on the bike again for the last ride of our amazing Gay Bike Tour, awwww . No sad faces please as this route is full of smiles along the coast. First stop: the protected reserve of Porto Selvaggio, and its beautiful small beaches where we can splash and enjoy the coast of Salento from a different point of view. We can spend some time relaxing before returning the bikes and make our way to to a quaint little town called Santa Maria al Bagno. We have the opportunity to enjoy a relaxing lunch by the beach there, relaxing, admiring the sea and having a sip or two of the good wines of the region.
After lunch it's time to head to Gallipoli! The name of this town means "Beautiful City" for good reason: its old town is enclosed in a rocky island accessible thanks to an 18th century bridge. The town is a real feast of architecture in baroque style adorned with paintings by Neapolitan and Salento painters. Hand woven basket makers and fishermen are still working in its alleys and ports.
Typical Pizza and beer in Gallipoli new town included, followed by drinks in the local gay bar where you can mingle with the local talent! For those a bit more ambitious, there is a gay disco party night afterwards (in Summer).
Day 8
See you soon!
After breakfast, we all say goodbye (no tears hopefully) and hope that we see you the next time