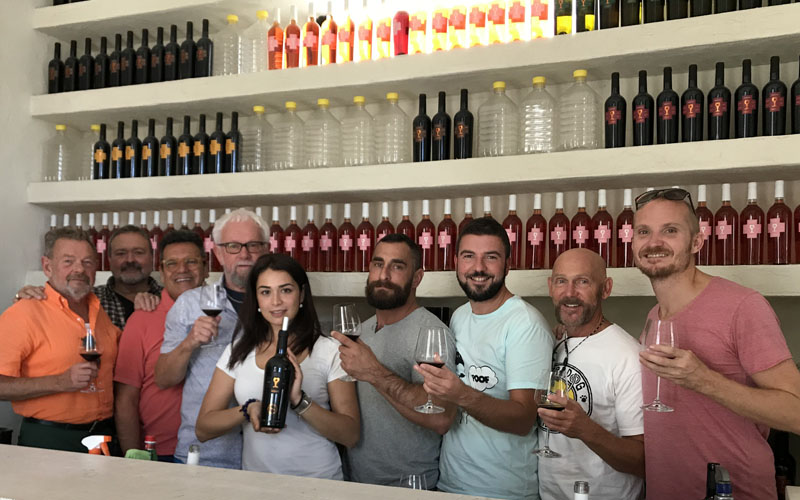 Gay Foodies Tour of Puglia
From €1990 or USD $2290
Deposit €500 or USD $690
 13 – 19 May 2023
Join us at Italy Gay Travels for the Gay Foodies Tour of Puglia.
Our authentic and extravagant Gay Foodies Tour is a once in a lifetime opportunity to explore the world-famous food in this amazing location. Our tour combines the must-see sights of Puglia with a sophisticated exploration of the food and wine specific to the region. Think seasonal vegetables, local cheeses, seafood from the extensive coastline and amazing meat, this is not Italian food as you know it. Puglia cuisine is based on a Mediterranean diet but here the food is explored creatively and always on seasonal produce. During the Gay Foodies Tour you will create inspired dishes with local chefs, learning all the tricks and trades from centuries of passed-down traditions. You will also eat like kings on this tour as the gastronomy included will ensure you indulge. Not convinced? We also throw in trips to food producers, regional markets, wineries and olive groves. We also see the key sights of Puglia, such as Alberobello, Bari, Martina Franca, Ostuni and Polignano a Mare. This Gay Foodies Tour is open to all levels of cooking: you will be learning about the amazing Pugliese kitchen so there is a new trick for everyone to learn! The Gay Foodies Tour also offers an onsite massage therapist for those wishing to unwind and relax if the cooking gets to hot! Please email info@italygaytravels.com for more information and how to book these extra treats.
Day 1
Welcome to Puglia!
We will collect you from either Bari or Brindisi, international airports which have many connections to Europe and beyond. From there we make our way to our accommodation. Here the Gay Foodies Tour adventure begins!  From the aiport we will make our way to the private villa we have reserved exclusively for our group, or to your 4* Masseria. A Masseria is a fortified farmhouse that has been painstakingly renovated and has all the bells and whistles you'd expect from a boutique hotel: Wifi, swimming pool, terrace sundowners to name a few!  Set amongst olive groves and fruit trees, the stunningly refurbished farmhouse tells the story of Puglia's past and present. The evening is finished with a delicious aperitif dinner organized by your hosts.
Day 2
Cooking class Pugliese style plus trip to Locorotondo
After a fresh breakfast and dip in the pool (if you fancy) we have our first experience. A cooking lesson from a local chef. Here you will obtain first-hand knowledge from a master. The focus is on cooking typical regional dishes and also exploring the types of ingredients used. Cooking in Puglia is at a very local level and differs from season to season. We also have a 'waste not' attitude so don't be surprised to see parts of vegetables used that are generally thrown away. Recipes have been handed down from generation to generation and truly represent the Mediterranean diet. The session is hands on and time is taken to ensure that everyone is happy and confident by the end of the experience. Naturally we eat what we've made 😊
After digesting our meal and taking a nap we visit Locorotondo, a gem town perched on a hilltop overlooking the Itrian Valley, a broad fertile valley. The drive there is dotted with Lamia, Masseria and Trulli (cone shaped buildings) that make this Valley magical and special. We have dinner in Locorotondo in a restaurant that bases all its dishes on traditional cooking methods. A couple of digestives or a gelato finish off the evening.
Meals: Breakfast, Lunch and Dinner
Day 3
Alberobello, Polignano a Mare, Ostuni and Fine Dining
After a hearty breakfast, we depart for our first stop, Alberobello, a UNESCO World Heritage site. This town is postcard famous for its circular cone-shaped buildings called 'Trulli', truly marvellous 😊.  Explore the narrow streets with limestone dry-stone walls and get lost in the fairytale ambiance. Here we learn about the history of these buildings and about the cryptic symbols painted on the roof-cones. Many of them are of Pagan descent.
We then move on to a stunning coastal town called Polignano a Mare. Famous for its town seemingly clinging to the rocks suspended above the Adriatic's turquoise waters. Here we will have our lunch. This time the cuisine is focussed on Puglias Adriatic Coast. Fresh line caught seafood served up alongside seasonal produce and drizzled with Extra Virgin Olive Oil from the nearby Frantoi.
After lunch why not dip your feet into the water on the beach?
In the evening, we explore Ostuni, known as the 'White City' as it sits perched above a hill near the sea with its white walls glinting in the sunlight. Through the town's maze of narrow streets, we end up in a Michelin star restaurant, where we will enjoy a dining experience with modern twists on traditional Puglia recipes.
Meals: Breakfast, Lunch and Dinner
Day 4
From market stall to plate
After breakfast we visit the local markets in Martina Franca, one of the few Baroque Architecture towns in the South. Here we discover how the locals go about their daily lives. Along with the guide and local chef we experience the markets in a truly authentic way. Once we have bought our ingredients we make our way back to the Masseria. Back in the kitchen we again get to learn the tricks of this amazing cuisine. We also learn how to make fresh pasta from scratch. This is called 'Orecchiette' which gets its name based on the shape that resembles ears. Give it a few goes and you are soon a master!
Meals: Breakfast, light Lunch and Dinner (wine included)
Day 5
Wine Tour and Bari
After breakfast, we visit a local winery where we taste wines that are unique to the area of Puglia. The traditional varieties that are grown include fiano minutolo and susumaniello. We are given a tour through the vineyard followed by a tasting session.
After lunch, we head to Bari, the capital town of Puglia. We will explore the historic centre of the town and enjoy its beautiful alleys and ancient houses and churches. Why not to enjoy some shopping? Bari is the right place for it: You will have free time to discover the city at your own pace and its local talents.
After a typical dinner and a drink in one of the many cocktail bars in Bari, we make our way back to our accommodation.
Meals: Breakfast, light Lunch and Dinner
Day 6
Olive Oil Experience and Farewell Dinner!
After a hearty breakfast, we head to a typical 'Frantoio' (farm producing organic extra virgin olive oil). Here we will learn the history of the ancient olive groves planted by the Romans and their uses from then until now. Marvel at the ancient trees that dominate this landscape. This is followed by a degustation of olive oils. The afternoon is spent back at the Masseria. Here we get back into the kitchen where we prepare a dinner, this time we are inviting some local friends, so we hope your skills have upped a notch or 2! The Italians are very honest!
Meals: Breakfast, Light Lunch and Dinner
Day 7
Goodbye and see you next time!
It's time to say goodbye, we will arrange drop-offs to airports or train stations.
Optional add-ons: