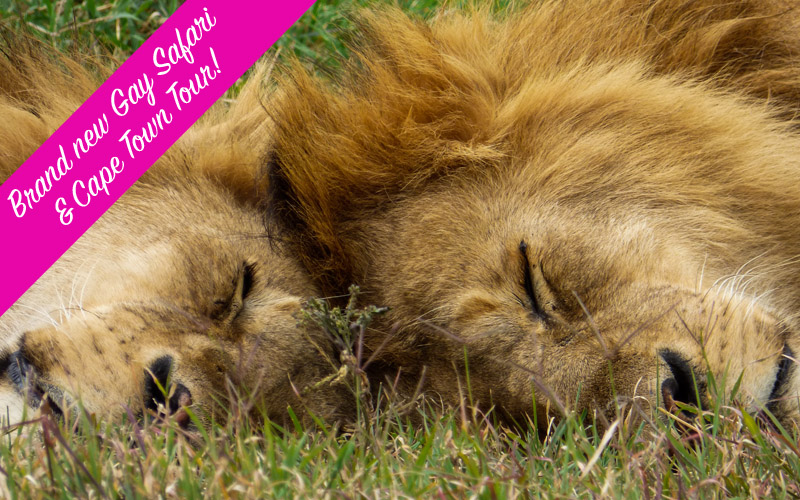 Gay Safari & Cape Town Tour
From €2990 or USD $3,400
Deposit €1000 or USD $1,250
20 February – 01 March 2019

Gay Safari and Cape Town Tour
Join Italy Gay Travels on a once in a lifetime gay safari and gay tour of Cape Town and surroundings.
Oh my, it seems we have our bearings all mixed up and the flight has been diverted! Yes to sunny South Africa. Why would Italy Gay travels hold a Gay Safari and Cape Town tour I hear you ask? Well because we love the sunshine and we love beautiful places rich in culture, good food and openness.
We have teamed up with out gay network in South Africa to bring you the ultimate Gay Safari and Cape Town Tour. Picture yourself immersed in the african plains with the sounds of wild animals and scents of the african bush. This Gay Safari is the perfect opportunity to explore South Africa with like minded individuals from all over the world.
If the Gay Safari isn't enough, we also whisk you away to the majestic Cape Town and its surroundings. This Gay destination will have you tickled pink with amazing food, gay bars and clubs, beautiful wine, good looking locals and a relaxed atmosphere that is pure magic.
This Gay Safari and Cape Town Tour will take you to many of the must see destinations including Johannesburg, Pilansburg, Cape Town, Stellenbosch and Cape Point.
For those wanting to experience more, why not join us straight after the tour for the Cape Town Pride Long Weekend 2019.
Have a look at the scintillating itinerary below and email us if you have any questions.
This will be the gay safari and cape town tour on everyone's wish list so book soon to avoid disappointment.
Day 1
Welcome
You will be welcomed at OR Tambo International Airport by your hosts for the tour and travel guide. The transfer to Rosebank will take approximately 45 minutes, in a luxury, air-conditioned coach. Here you will enjoy a welcome refreshment en route to the hotel.
The afternoon will be free to settle in, freshen up and explore Rosebank and its many shops and boutiques. In the evening we all meet for dinner at a local restaurant in Rosebank. This will be the perfect opportunity to meet your fellow travellers and find out all about the Gay Safari and Cape Town tour.
Sleep in Johannesburg
Meals: Dinner
Day 2
Soweto
After a hearty breakfast the Gay Safari and Cape Town Tour heads to Soweto – home of the late South African president Nelson Mandela (Madiba). Visit World famous Landmarks such as the Baragwanath Precinct, the Hector Pieterson Museum and the Mandela House Museum before heading to Johannesburg CBD for an immersion into Jozi Urban life at Joziburg Lane, were we will enjoy a tasty, local lunch.
Dinner will be at a local restaurant in Rosebank.
Sleep in Johannesburg
Meals: Breakfast, Lunch and Dinner
Day 3
Safari
This is what we have been waiting for. After breakfast we will depart for Ivory Tree Lodge in the Pilansberg, stopping along the way at Hartebeespoort Dam for a traditional Afrikaans lunch and curio shopping. Perhaps even a quick stop to taste some traditional 'Citrus Mampoer' – a favourite amongst the locals. It will take only a couple of hours for us to escape the bustling city life of Johannesburg and find ourselves immersed in the bush. Our Gay Safari takes place at Ivory Tree Lodge. Ivory Tree Game Lodge is situated within the Pilanesberg Game Reserve, one of the largest volcanic complexes of its kind in the world. The early presence of man can be seen in the numerous Stone and Iron Age sites that are scattered throughout the Park.
This premium Pilanesberg game lodge offers adventure-filled outdoor activities including 2 x daily game drives, Quad biking, Archery, Airgun and Interactive Drumming. As well as their world-famous Amani Spa
Sleep in Pilansburg
Meals: Breakfast, Lunch and Dinner
Day 4
Safari
Today will be spent around the bush and exploring the Flora and Fauna of South Africa. There will be an early morning game drive and an evening game drive, make sure to spot the 'Big 5'. And no, not that kind of Big, we mean Lion, Leopard, Rhino, Elephant and Buffalo.
During the rest of the time there is plenty of time to relax in the African bush, with loads to do including: relaxing by the pool, Quad Biking and Archery. For those looking for some pampering why not book yourself a treatment at the award winning Amani Spa onsite.
Later in the evening dinner will be set in the natural environment of the lodge, with local entertainment – including interactive African drumming.
Sleep in Pilansburg
Meals: Breakfast, Lunch and Dinner
Day 5
Cape Town
After breakfast we will depart on the 2 hour return journey to Johannesburg, where we will embark on a flight to Cape Town. After a short 2 hour flight we take a private transfer to our Hotel in De Waterkant. This old suburb of Cape Town is walking distance to the famous V&A Waterfront as well as all the gay bars, restaurants and hotspots Cape Town has to offer. It is also  15 minute taxi ride to the Camps Bay and Clifton beaches. Clifton 3 is the Gay Beach with hot local boys!
Dinner will be at one of the finest restaurants in the Cape Town CBD.
Sleep in Cape Town
Meals: Breakfast and Dinner
Day 6
Wine Tasting in Stellenbosch and Franschoek
After breakfast the Gay Safari and Cape Town tour Today heads out into the winelands for a full day exclusive Wine Experience in the Stellenbosch & Franschoek regions.
Taste some the finest wines and best food South Africa has to offer, whilst exploring the delightfully quaint little towns set up by the first European settlers in South Africa. We will take you through the flavours of South Africa's world-famous wines.
We head back later in the afternoon where you will have the evening free to do as you wish, some may want some rest after all the activities (or wine)!
Sleep in Cape Town
Meals: Breakfast, Lunch
Day 7
Cape Town Free Day
Cape Town has so much to offer, and a few days is never enough to explore it all. So today will be free to do whatever you choose. Here are some suggestions:
Shop at the V&A Waterfront
Go to the beach (Clifton 3 for the Gay beach)
Try out some more fabulous wines
Explore the Bokaap area
Visit Robben Island, the infamous prison were Nelson Mandela spent most of his time.
Your tour guides will be at hand for any help or suggestions.
Sleep in Cape Town
Meals: Breakfast
Day 8
Table Mountain
After breakfast we will head to the peak of Table Mountain via the cable car (or if you are brave, and adventurous, you can hike up – it only takes about 90 minutes).
Here you will enjoy the best views in the world! Spend time exploring the fascinationg micro climate up here and look out for dassies (an African rodent that lives amongst the rocks). The afternoon will be at your leisure again – more opportunity to explore a different side of Cape Town.
Dinner will be served on us at yet another one of Cape Town's finest restaurants.
Sleep in Cape Town
Meals: Breakfast and Dinner
Day 9
Boulders Bay and the Pinguins
Today is the last official day in Cape Town. The Gay Safari and Cape Town tour finishes  with a journey around the most beautiful landscape in the world: the Cape Peninsula
The morning tour will take you through intricate roads built into the mountain on Chapman's Peak and the long white beaches of Noordhoek where 2 oceans meet at Cape Point.  A visit to Boulder Beach to play with the penguins and a scrumptious seafood lunch in Simonstown is of course on the agenda.
Our last night deserves a proper gay send off… dinner and a show at the Gate 69 Dinner Theatre is the perfect way to do it!
Sleep in Cape Town
Meals: Breakfast and Dinner
Day 10
Goodbye
After breakfast it is time to say goodbye. But no tears please. For those wishing to stay we have timed the trip to coincide as Cape Town Gay Pride starts.