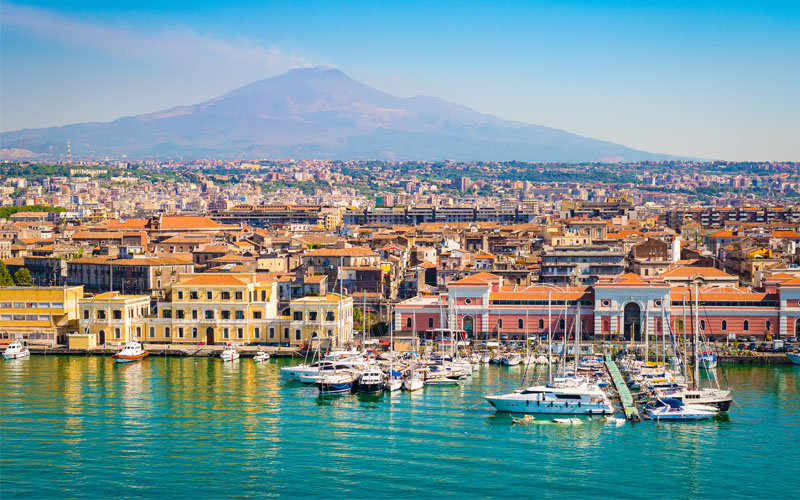 Gay Sicily Vacation
Catania, Syracuse, Etna, Taormina
From €2290 in Shared Double Room
or €2880 in Private Double Room
Deposit €500 or USD $590
6 – 13 July 2024
Other Dates available on request for Private Departures. Please inquiry.
A Gay Sicily Vacation like no other!
Join Italy Gay Travels on an amazing Gay Sicily Vacation: indeed the definitive White Lotus Tour. Sicily is the biggest island in the Mediterranean sea, rich in culture and home to important archaeological sites. Yes in this case bigger is better as Sicily packs in all the punches an all gay tour should offer. This exclusive Gay Sicily Vacation will focus on the eastern part of this amazing region, fast becoming a gay hotspot. And with one look at the local talent here you will understand why, mamma mia! Starting your journey from Catania you will have the opportunity to explore most of the amazing sights this region can offer such as the Etna volcano, Taormina, Syracuse and the Noto valley, worldwide famous for its wines!
You will also meet like-minded gay men from all over the world on our exclusive all gay Tour. Our very own Gay Sicily Vacation allows you to discover the region from a safe and friendly viewpoint. Visit the tallest volcano in Europe, soak up the sun on amazing beaches, discover the island by boat and eat like a king on our exclusive Gay Sicily Tour.
Day 1
Welcome
Welcome to Sicily! This region has a powerful past, a melting pot of many different cultures that have conquered its soil, and an intriguing present.
Make your way to your hotel smack bang in the center of Catania and settle in. Join your fellow Gay Travelers and your tour hosts, Sergio and Kendall, in the evening for a Complimentary Welcome Dinner. Here we will all get to meet each other and have a full briefing on the adventure that lies ahead. After dinner we go bar hopping: Catania is packed with cool and gritty gay-friendly bars! You will discover a buzzing young city with us!
Meals included: Welcome Dinner
Overnight in Catania
Day 2
Discover Catania
After a hearty breakfast we take in our first visit: a guided tour of Catania. Catania's historic center is on the Unesco World Heritage list. The black-and-white palazzi towering over sweeping baroque piazzas are some of its most looked after sights. Starting from piazza Frederick of Swabia, our English guided tour will lead us through the ancient Norman castle of the city, the Ursino Castle, the Roman Baths, Piazza del Duomo, and the Fontana dell'Elefante.
Catania, and Sicily as a whole, is also well known for its superb local food (pasta alla Norma anyone?): we will make sure we include a well deserved stop at the extraordinary fish market of the city (La Pescheria).
Free time in the afternoon to enjoy lunch and stroll around Catania as you wish, do some shopping, or just take a siesta, ahhhhhh!
Optional typical dinner in a Restaurant in the center of Catania, in a trendy area of the city.
Meals included: Breakfast
Overnight in Catania
Day 3
Bustling Mount Etna
Make sure to wear comfortable boots and don't forget your camera! Our Gay Sicily Tour explores the tallest active volcano in Europe: Mount Etna. No eruptions today hopefully (no pun intended). We will reach an altitude of 2,000 meters above sea level and enjoy a moderate hike. Admire the fascinating landscape of the Valle del Bove depression, a breathtaking view of the smoking craters of Mount Etna and the surrounding landscapes facing the lonian sea.
After lunch we will make our way back to the hotel for some free time before dinner.
Meals included: Breakfast
Overnight in Catania
Day 4
Taormina and Boat Excursion
After breakfast, our Gay Sicily Tour will head to what is arguably the most beautiful city in Sicily: Taormina.
Discover the city on an English guided walking tour, including the best key sights of the area. The famous Greek theater and beautiful hidden gardens among its crowded streets are just some of the highlights.
Lunch is up to you, but make sure to join Italy Gay Travels for an unforgettable boat trip in the beautiful bay of Taormina in the afternoon. Get your speedos and goggles ready! We will enjoy Naxos Bay, the Cave of Love, Sirens Bay, Isola Bella,  the Blue Grotto, Mazzarò bay and St. Nicholas Bay. Naturally, there will be plenty of time time to enjoy a refreshing dip in the sea.
In the afternoon, we head back to Catania, free time in the evening to enjoy Catania by night.
Meals included: Breakfast
Overnight in Catania
Day 5
Catania – Syracuse.
After breakfast the group will, pack the luggages, leave Catania and head to discover one of the most beautiful cities of the so-called Magna Grecia, Syracuse.
We will stay smack in the center of the old town of Syracuse, Ortigia. After checking in into the hotel, free time to hit the beach, do some shopping, having a stroll in the beautiful streets of Syracuse or have a nap in the hotel.
In the afternoon meet with your Italy Gay Travels host for a visit to the old town of Syracuse, Ortigia, before going for dinner: Pizza is on us!
Meals included: Breakfast, Pizza Dinner
Overnight in Syracuse
Day 6
Free Day in Syracuse
Today, explore the old town of Syracuse at your own pace. Beach anyone? Your host will be around to offer advice and guidance as needed. Why not pay a visit to the Archaeological park, home to the remains of the Roman Amphitheater, the Greek Theater, the Ear of Dionysius, According to legend, the tyrant Dionysus, dug the cave to hide his prisoners and hear their speeches.
Meals included: Breakfast
Overnight in Syracuse
Day 7
Prodigious Noto
After breakfast we head to Noto, a beautiful town known for its architecture and trendy bars and shops. Noto is in the middle of an amazing valley included in the UNESCO World Heritage list due to its Late Baroque architecture.
Enjoy an aperitif in the lively squares of the city whilst taking in the surroundings.
Back in Syracuse, make sure to join us for the Farewell Dinner in a Typical Restaurant, on us of course.
We will finish the night bar hopping and discovering the nightlife of the city.
Meals included: Breakfast, Farewell Dinner
Overnight in Syracuse
See you soon!
After breakfast, our very own White Louts Gay Sicily Vacation is over. We all say goodbye (no tears hopefully) and hope that we see you the next time!
Meals included: Breakfast
One week with us is not enough? Then you should consider to join our back to back Vacation, a wonderful Sailing Week in the Aeolian Islands