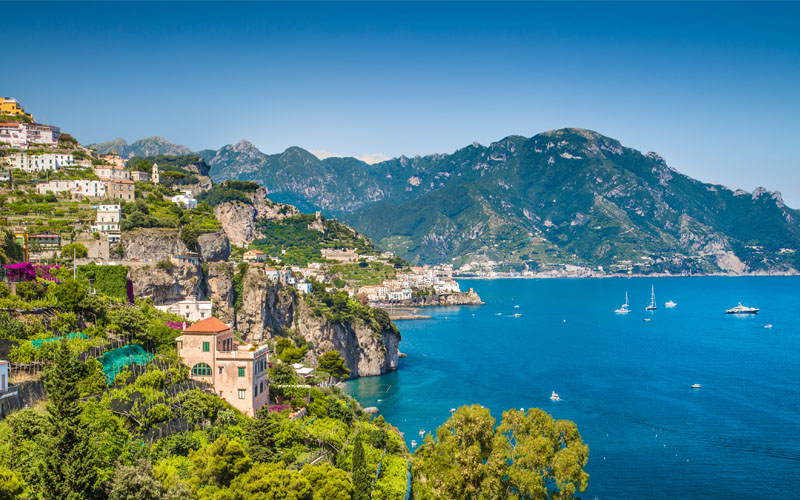 Gay Summer Tour of Italy:
Rome, Naples, Capri and the Amalfi Coast
From €2190 or USD $2450
5 – 11 August 2024
Other Dates available on request. Please inquiry.
Price per person (based on shared double room)
€2190 or USD $2450 sharing in a double or twin room
Single supplement of €690 or USD $850
Services included
6 Nights in 3 star hotels or B&B (breakfast included)
All transportation and transfers between places
Private walking tour in English
3 Dinners
Services not included
3.5% Credit Card Commission Fee
Return flights
City Taxes
Expenses of personal nature
Meals throughout the entire tour other than mentioned
Any other item not mentioned above
Insurance, tips and everything not listed as Included
Single supplement per person
€690 or USD $850 in single room
Duration
8 days / 7 nights (7 days of activities)
En suite rooms in 3 star Hotels and B&B. 6 breakfasts included.  Welcome Dinner in Rome (Day 1), Pizza dinner in Naples (Day 4) and Farewell Dinner in Sorrento (Day 6) included.
An optional welcome meeting will be held on the first day in the evening during the aperitif. On the second day, after breakfast, there will be a full briefing. You will be provided with an assistance number you can call your Italy Gay Travels at any time during your stay.
The Definitive Gay Summer Tour of Italy: Rome, Naples, Capri and Amalfi Coast
Join Italy Gay Travels on the Definitive Gay Summer Tour of Italy: 8 days, 7 nights of pure bliss.  This unforgettable holiday will start in Rome, where you will discover the historical charm of the Capital of Italy. After, we will head to Naples, where we will admire the beauty of this seaside city, before making our way to Sorrento, our base for a 3 nights. From there we will make our way to the Amalfi Coast and to the island of Capri, world famous for its beaches and the stunning faraglioni.
Day 1
Welcome to Rome
Welcome to Rome: the Eternal City! This is a destination on everyone's bucket list and our Gay Summer Tour of Italy must start here.
Make your way to your accommodation, smack bang in the centre of the city and settle in. Here you will meet your hosts Kendall and Sergio and get your Gay Summer Tour of Italy welcome pack. Join your fellow Gay Travellers and your tour hosts in the evening for a Complimentary Welcome Dinner near the Colosseum. Here we will all get to meet each other and have a full briefing on the adventure that lies ahead. After dinner (Roman Style) we go gay bar hopping: let's enjoy La Dolce Vita by night!
Sleep in Rome
Meals included: Dinner
Day 2
Classical Rome – Galleria Borghese
After a hearty breakfast we take in our first visit: a guided tour of Classical Rome. We will visit Villa Borghese, Rome's most beautiful park, close to the city's historical center. Inside the park we will join a tour of the beautiful Galleria Borghese, house of a Museum hosting  a vast and diverse collection of sculptures and paintings produced by Italian artists such as Bernini, Canova, Caravaggio and Tiziano.
Free time in the afternoon to enjoy lunch and stroll around Rome as you wish or take a siesta!
Sleep in Rome
Meals included: Breakfast
Day 3
Imperial Rome
Free time in the morning to enjoy the beautiful capital of Italy at your own pace. You can make the most of it by adding a guided tour of the Vatican Museums and Sistine Chapel (skip-the-line entrance fee included).
After lunch on your own, we will meet again in the early afternoon to enjoy a private walking tour in the heart and soul of Rome. Key sights include Piazza Venezia, to admire Il Vittoriano, the massive faux-classical monument to Italy's Vittorio Emanuele II as well as the Church of St. Peter in Chains. The final stop is a tour of the magnificent Colosseum. No fighting over the artefacts boys unless you want to put on your armour and sandals and give us a show!
Soon after the guided tour, everybody will be free to relax as they please. If you want, join us for dinner in the trendy Trastevere area.
Sleep in Rome
Meals included: Breakfast
Day 4
Rome – Naples
After breakfast we take a High Speed Train that brings us directly into the World Capital City of Pizza: Naples, just over 1 hour away.
Check-in at the hotel and enjoy lunch as you please.
In the afternoon we will meet for a private guided tour of Naples. We will visit famous landmarks such as the Royal Palace, the Spanish Quarters and the Maschio Angioino. Castel dell'Ovo, a seaside castle whose name derives from a legend about the Roman poet Virgil and the oldest standing fortification in Naples. From here you can enjoy the beautiful sea view and admire Mount Vesuvius. 
In the evening we will meet in the famous Piazza Bellini, a bustling Piazza in the center of the city where you will find a multitude of gay friendly restaurants, cafes, and bars: it is the heart of the Gay night life of this city. We will enjoy an amazing Sourdough Pizza right in the center of Naples just before finishing off the night with a drink or two in one of the gay bars of the city.
Sleep in Naples
Meals included: Breakfast, Pizza Dinner
Day 5
Naples to Amalfi and Positano
After breakfast, it is time to pack. With a private transfer we will make our way to Positano. We will have a stroll downtown, through its little pictoresque alleys, down to the beach. After lunch, we will step on an hydrofoil and admire the Amalfi coastline from the sea, while reaching Amalfi. In the afternoon we will visit this coast town popular for its scenic beauty. Free time in the afternoon to enjoy some shopping… or maybe laying down at the beach? In the evening a private transfer will drive us back to Sorrento. Once back, get yourself ready for a final farewell dinner with your hosts. Ready to get a little drunk with your hosts on Prosecco and Limoncello? After, we make our way to Sorrento, where we check in and enjoy some free time
Sleep in Sorrento
Meals included: Breakfast
Day 6
Capri – Farewell Dinner
After breakfast a private transfer will drive us to the marina. We will step on-board a private boat with which we will reach  the island of Capri, in style. Capri has long been a hotspot for European gay life from the early 20th century. Our private boat will bring us around the island: we will have the opportunity to have a dip off the boat and splash in the crystalline waters of the bay. After the boat ride you will have free time to enjoy lunch and a stroll around Capri: around its famous Piazzetta you will discover fashion streets and glamourous boutiques. In the late afternoon we enjoy aperitifs as we soak up this breathtaking scenery before taking our private boat back to Sorrento.
In the evening we will enjoy a complimentary farewell dinner in Sorrento: dinner is on us!
Sleep in Sorrento
Meals included: Breakfast, Dinner
Day 7
See you soon!
After breakfast, our Gay Summer Tour of Italy is over! We all say goodbye (no tears hopefully) until the next time!
Meals included: Breakfast
Looking for a different Vacation focussing on the Amalfi Coast? Then you should check our very own Naples, Capri and Amalfi Coast Vacation.