Italy Gay Summer Party 2021
Italy Gay Summer Party: The Party Event of the Summer is Back!
Per la versione in Italiano clicca qui
Italy Gay Summer Party 2021: Bigger, better and with even more fun than ever before. Save the Date: 3 – 5 September 2021! Italy Gay Travels will host a sensational weekend of events in sunny Southern Italy! Join a select group of avid gay travellers basking in the sunshine and beaches of Gallipoli, Puglia.
Italy Gay Summer Party 2021 is a 3-day event packed with fun, sun, laughs and Prosecco, obviously!
Italy Gay Summer Party is held in the heart of Salento, the Southeastern-most tip of Italy, in the so called Italian Ibiza, Gallipoli. Amazing food, Caribbean like sandy beaches, hot boys and friendly locals: what else do you need? Have a look at the full program of the event and book your event pass now!
Why not discover Salento and the rest of Puglia with Italy Gay Travels? Treat yourself! Book the sensational Cycling Trip of Puglia, 6 – 13 September 2021: Discover the best of Southern Italy on two wheels!
Looking for accommodation?
Stay at our

partner

hotel the Bellavista!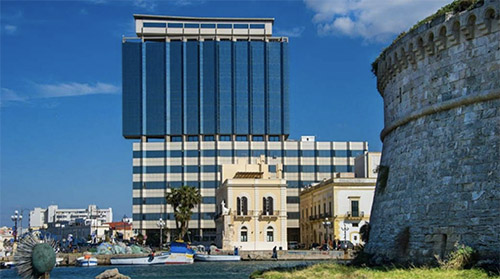 The Bellavista hotel is located right next to the historical centre of Gallipoli. With 360 degree views of the beautiful bay and incredible views it is the perfect place to enjoy all the action of the Italy Gay Summer Party 2018. It is within walking distance to the beaches, bars and restaurants and will not break the bank either! Please fill in the form for prices for your required stay.
Your Italy Gay Travels T-Shirt 
Please let us know your size for your free Italy Gay Travels T-Shirt: you will receive it with your welcome pack when you arrive.
Please email us at your earliest convenience to notify if you would like to take part in the Summer Party at info@italygaytravels.com. Feel free to email us for any other information regarding the program or for any advice on getting around. We are also happy to advise you on places to stay as well as other activities that you can do including sightseeing and cooking classes. All events/dinners/parties are both in Italian and English.
The closest airport is Brindisi which has connections to many destinations. You can also fly to Bari which is a little further but has many connections.