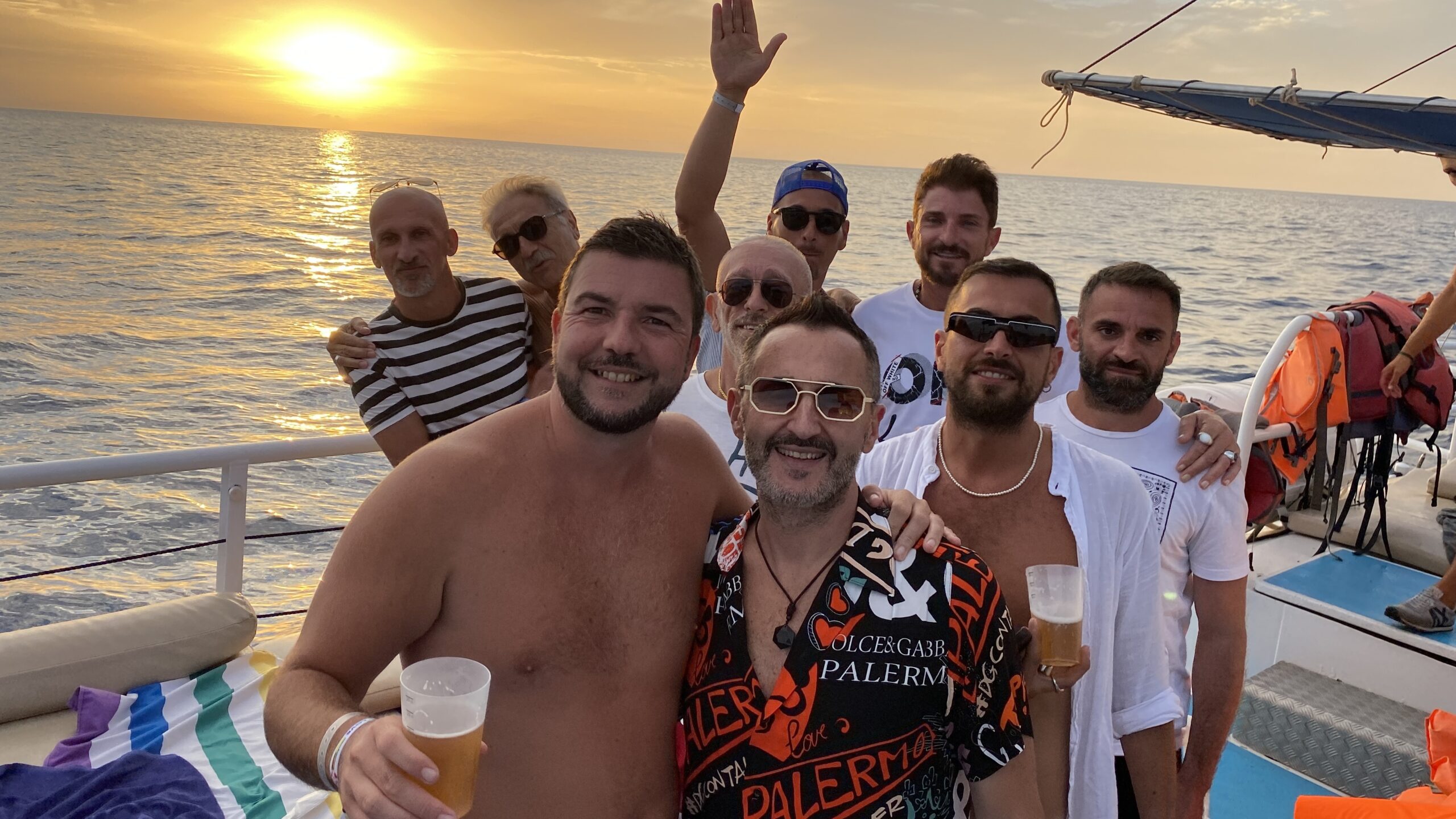 Winter Pride a Gran Canaria
Playa del Ingles, Gran Canaria
Prezzo Early Bird €990. Prenota entro il 31/08
invece di €1590
Deposit €500 or USD $500
6 – 13 Novembre 2023
Prezzo per persona (basati su occupazione in camera doppia o matrimoniale condivida con un altro viaggiatore)
Prezzo Early Bird €990 (prezzo valido per prenotazioni fino al 31 Ottobre. Dopo, €1590 pp)
Al momento della Prenotazione un Deposito (€250) e' richiesto. Il Pagamento del saldo e' dovuto entro 60 giorni dalla data della Partenza.
Supplemento occupazione Camera Individuale €690.
Viaggi da solo? Troviamo noi il tuo compagno di viaggio per condividere la camera se preferisci non pagare il supplemento individuale.
Servizi inclusi
7 Notti nell'hotel all gay Ritual hotel (con colazione inclusa)
Transfer e trasporti
Tour in Inglese / Italiano
2 Cene; 2 Pranzi; 1 Welcome Drink
Servizi non inclusi
3.5%  Commissione per Pagamenti con Carta di Credito (pagamento con Bonifico Bancario senza commissioni raccomandato)
Voli
Spese di natura personale
Pasti ad eccezione di quelli indicati
Varie ed eventuali
Assicurazione, mance e tutto quanto non menzionato nella sezione Servizi inclusi
Supplemento camera Individuale
Durata
8 giorni / 7 notti (7 giorni di attivita')
Junior Suites con Bagno in Camera en-suite nell'hotel gay Ritual Maspalomas. 7 Colazioni incluse.  Welcome Drink (Giorno 1) Welcome Dinner (Giorno 2), Pranzo (Giorno 4), Pranzo a Buffet (Giorno 5) Farewell Dinner (Giorno 7) inclusi.
Welcome meeting la prima sera durante il Welcome Drink. Il secondo giorno, dopo colazione, ci sarà un welcome meeting ufficiale. Sergio, il tuo accompagnatore, sarà con il gruppo per l'intera vacanza.
Gay Gran Canaria Vacation: Winter Pride
Join Italy Gay Travels on an amazing vacation on the magic island of Gran Canaria (Spain) during the Winter Pride Celebrations!
We will stay in Playa del Ingles, around the Yumbo Center, Mecca of the gay Gran Canaria island and the heart of all the action. The accommodation is in an all-gay hotel: The Ritual Maspalomas, with a great atmosphere and guaranteed gayness all year-round!
This unforgettable vacation takes place during the Winter Pride Celebration on the sand-dunes beaches of Gran Canaria. The island is world-famous for its friendly inhabitants, unique gay atmosphere and sun-kissed beaches all year round.
We will celebrate the Gay Gran Canaria Carnival on the beach: the party has its biggest moment on 11th November, at 11.11 hr.  We will continue the celebration taking part in the parade along the Main Street of Playa del Ingles: It's Winter Pride Madness! Mingle with the Spanish local gay talent and meet new friends from all over the world in this 1 week long special adventure organised by Italy Gay Travels.
Day 1
Welcome to Gay Gran Canaria
Welcome to Gran Canaria, the island of Spain where anything can happen! You know what they say… What happens in Gran Canaria, stays in Gran Canaria!
Make your way to our host all-gay hotel, Ritual Maspalomas. For our group we have reserved the best en-suite Junior Suites around!
In the evening join your fellow Gay Travelers and your tour host, Sergio, for a Complimentary Welcome Drink. During the evening we will all get to meet each other and have a full briefing on the adventure that lies ahead, while bar hopping in the best gay bars in the Yumbo Center.
Meals included: Welcome Drink
Day 2
Pool Party
After breakfast feel free to take a seat by the pool of the hotel. Reserve a sun lounge and relax. The best pool party is about to start!
Get ready to transport yourself back to the 80s and 90s with Club Tropicana – the ultimate daytime pool party during Winter Pride Maspalomas! At Hotel Ritual, we'll be turning up the heat with a sizzling hot mix of 80s classics, DJs Trojan, Ross Alexander and Esteban and a live performance from the world's best Boy George tribute act. Dive into the pool and dance to the beat of the biggest hits from the era. Dress to impress in your best retro swimwear and get ready to party like it's the 80s!
After sunset, get ready for dinner: Welcome Dinner is on us before making our way to the Yumbo Center for Disco Inferno night!
Meals included: Breakfast, Welcome Dinner
Day 3
Wet and White Beach Party
Yes, it is the day of the ultimate experience of Gay Gran Canaria Winter Pride! Wear your whitest speedos and join in on the fun: The iconic Wet & White party will be held at Amadores Beach Club, offering an incredible location by the ocean with a large pool, jacuzzi, sunbeds (€), VIP Cabins and restaurant. You'll dance to the hottest beats provided by the most sought-after DJs in the gay community, accompanied by the talented drags and dancers from High Heels Performance.
Meals included: Breakfast
Day 4
Coffee, Food and Rock Pools
Today, after breakfast, we join our friends of CanCanaria for a day tour to explore the island of Gran Canaria.
You probably didn't know Gran Canaria is home to the only coffee plantations in Europe. Now you can take a deep dive into the exotic Agaete Valley and tour a family-run finca producing a soft, handcrafted, gourmet-quality coffee… and of course, sample their produce too!
After the Plantation we will go to a local Canarian Restaurant for a meal, then into the Port of Agaete where you will have time to explore this handsome fishing village and its natural swimming pools and marvel at the stunning coastline of the western side of the Island.
Meals included: Breakfast, Lunch
Day 5
Away Boat Party
Today an amazing Boat Party awaits us, not to be missed! We are joining on the Gran Canaria's top-rated boat excursion – a 5* experience on board a beautiful Catamaran! We will make our way to Puerto Rico and board a 4 hours cruise while awaiting the sunset. This is the event your host Sergio looks forward to the most in this Gay Gran Canaria Winter Pride (do you know he also organises an amazing Gay Boat Party in Sunny Puglia in September)? Dance the day away with DJ beats, while sipping free flow beer and sangria. Buffet lunch is included!
Meals included: Breakfast, Buffet Lunch onboard the Boat
Day 6
Carnival on the Beach – Winter Pride Parade
After breakfast, it is time to head to the beach! 11th November, at 11.11 hr, Carnival season is officially starting! Wear your best costumes (or just your birthday suit) and join in on the fun along with thousands of gay friends from all over the world.
In the afternoon, we will continue the celebration taking part to the Winter Pride Parade along the Main Street of Playa del Ingles, finishing off at the infamous Yumbo Center. Ready to dance the night away?
Meals included: Breakfast
Day 7
Recovery Day
Today, do as you please: enjoy the end of your vacation as you desire! The best hangover cure? I'm sure you will find a solution in the best gay Gran Canaria hotel, Ritual Maspalomas! If you are still in the mood for a party, join an optional Afternoon T-Dance Pool Party at Seven Hotel – the ultimate closing Winter Pride event.
Whatever you choose to do,  join us in the evening for a Farewell Dinner!
Meals included: Breakfast, Farewell Dinner
Day 8
See you soon!
After breakfast, our Gay Gran Canaria Winter Pride Vacation is over! We all say goodbye (no tears hopefully) until the next time!
Meals included: Breakfast