Gay Greece: Come Sailing with us in Mykonos!
Gay Greece: yes, this amazing country is officially open for holidays!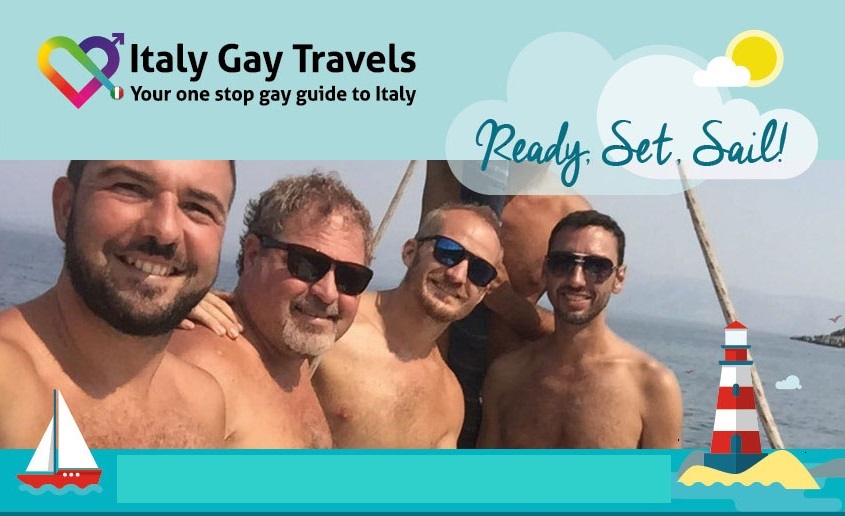 That is a great news! Book now your holidays with us in Mykonos! Wherever you are travelling from you will just need to show one of three things:
1 – Proof of vaccination with a valid vaccine certificate  OR
2 – A negative Covid PCR test, within 72 hours of travel OR
3 – Proof of recovery from Covid
Greece is officially ready to welcome international travelers, thus we are offering you the opportunity to come sailing with us! Join us in the Cycladic Islands this year, 21-28 August 2021, for the incredible price of only €1190pp in double cabin shared! Hurry up though, as we can secure this Early Bird Offer only for bookings made by May 31. You can read all the information about this amazing trip at the following link https://www.italygaytravels.com/gay-sail-greece-mykonos-gay/
Our sailing yacht is NEW with lot of space to relax! our Dufour 520 features comfortable cabins, a fully equipped galley and 3 bathrooms: it is indeed a state of the art sailing yacht!
The tour starts and ends in the Gay Greece Capital, Mykonos. We will embark in Mykonos port on Saturday afternoon.
You will be welcomed with a glass of bubbles, of course!
After dropping off our bags on the boat, we will explore Mykonos town. It's the perfect time to getting to know our fellow sailors! After dinner and a few drinks we will then head back to the port to sleep on the boat, ready for the gay sail adventure that lies ahead.
On Sunday, we will sail around Mykonos. Our professional skipper will hold a safety briefing and teach some basic training to ensure that everyone remains safe throughout the trip. After tugging at the strings (of the boat) we open the sails and head out into the open sea. If you have never sailed, fear not! We will show you the ropes to ensure you don't go overboard. We have selected only the best (and hottest) crew to keep you afloat as we cross the sea and head to the beautiful islands that lie around Mykonos.
In the following days we will explore some of the most beautiful islands of Gay Greece, the Cyclades islands: Paros, Ios and Santorini are unmissable stops on our all gay sail adventure. The exact itinerary will depend on the winds, as you can imagine: we will have a professional skipper with us, and a host/cook.
We usually sail during the morning. Your host will serve breakfast and light lunch on board, then in the afternoon / evening we will explore the islands and have dinner in local restaurants.
We will sail back to Mykonos on Friday and after the last night sleep we will disembark on Saturday, early morning.
What are you waiting for? Come Discover Gay Greece Capital, Mykonos, with us this Summer. Spots are limited, so secure now this special deal (€300 off: only €1190pp instead of €1490). It is very easy:
Book the Mykonos Sailing Week by May, 31 at the link here https://www.italygaytravels.com/book/
Mention the Discount code MYKONOS 2021 in the Booking Form